I had this idea of making cocktail inspired nails. I've made only 2 so far, but I have another manicure coming up. The one that I'll show you today is inspired by the Blue Hawaiian.
Photo courtesy of http://www.outofthefryingpan.com
As a base I used Golden Rose (Paris Nail Lacquer) 204. It's an azure cr‬è‪me (according to Wikipedia Colors). It's opaque in 2-3 coats depending on the thickness, but it's not good for stamping. The drying time is normal. In my opinion this is the perfect blue nail polish for summer.
Golden Rose Paris Nail Lacquer 204 - 2 coats (click for larger)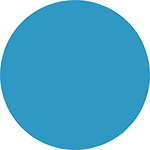 To create this Blue Hawaiian inspired look I used a few pieces of grapefruit shaped fimo cane and placed them randomly on the nails. I sealed the fimo decorations in place with a drop of top coat.
(click for larger)
Thanks for reading :)