Hello everyone :) Today I'll show you two nail polishes from Gabrini that I bought about half a year ago. What's funny about these two is that I just picked them up randomly and it turned out that both of them have silver flecks.
Gabrini Elegant 322 is one of my favorite purple polishes (you might hear this a lot, because I don't have many purples, but the ones I have are very special) . It's very, very shimmery (see color drop). Opaque in only one coat, it's very good for stamping, though you might have some trouble picking the image up due to the flecks and shimmer overload.
Gabrini Elegant 322 - 2 coats (click for larger)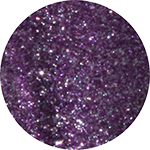 The second polish I'm going to show you today is Gabrini Elegant 374. It's а light carmine pink with silver flecks. It's opaque in 2 coats and good for stamping. Not one of my favorite colors. I just feel like is one of those shades that make my skin look weird.
I have around 10 polishes from Gabrini and there's only one thing I hate about them - the numbers. There are many brands here that sell polishes with numbers, but these are annoying because ALL of them start with 3 and it's very hard to know which is which.
Thanks for reading :)