Good morning! Today I'll show you two nail polishes, one of which is a franken and a simple tape manicure. I'm writing this post really early in the morning and I apologize for any grammar errors :)
H&M Neon Orange is a dark orange with a jelly finish. It's definitely NOT neon, so don't let the name fool you like it fooled me. It's opaque in 2-3 coats. The drying time was really slow, in my case of course, but I might have bought an older polish. It's not very good for stamping. I got over the fact that it wasn't a neon, even though it looks like one in the bottle. What really bothers me is the mini bottle this polish came in (around 3.2ml) and I used more than half in only 3-4 manicures. I can only imagine what will happen if someone has longer nails :)
H&M Neon Orange - 2 coats (click for larger)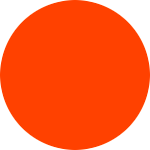 And now I give you one of my frankens - Atomic Tangerine. For those that don't know what a franken is - it's a nail polish that you made yourself by mixing different polishes or maybe using pigments, glitters etc. Like I said Neon Orange was gone in 3-4 manicures. I mixed what was left of Neon Orange with some white nail polish and I got a beautiful peachy cr‬è‪me which I named Atomic Tangerine. It turned out a bit darker than it is in real life, but the color drop is more color accurate.
Atomic Tangerine - 2 coats (click for larger)
I must say I fell in love with this color. I decided to wear it as a full mani. I used some duct tape, cut out small triangles, taped them on my nail and went over the tape with Essence Movie Star. Love the combination of these two colors.
(click for larger)
Thanks for reading :)