Hello everyone! Finally I found some free time to write a new blog post.
Today I'm going to show you Gabrini Elegant 352, a beautiful sky blue cr‬è‪me. It's opaque in only one coat, but I always tend to put another one just to make all the nails look smooth and nice. It's good for stamping and I have some fun ideas for the future :) Blue nail polishes are one of my favorites, but I don't buy them unless they are very special, like this one.
Gabrini Elegant 352 - 2 coats (click for larger)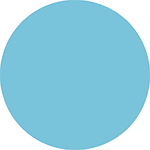 And of course, I'm still super excited about my Bundle Monster stamping plates and I actually made a few different stamping manicures during my little break from blogging. Just like the title of the post says, I was going for a magical look, so I stamped the butterflies using a gold nail polish.
Sorry for the weird photo, it's the only one I have of this manicure. As you may notice it's my right hand because I liked it more than the left one. I'm not used to photographing with my left hand and it's basically impossible since I take the photos with a dSLR.
Base color: Gabrini Elegant 352
Stamping color: Golden Rose Nail Art 108
Stamping plate: BM-205
(click for larger)
And a close-up of my thumb which turned out the best.
(click for larger)
Thanks for reading :)