Hello everyone!
Just like I promised in the last post, today I'm going to show you one of the nail polishes I bought from Prague.
H&M Moody Model is a dark teal cr‬è‪me, opaque in two coats. It looks very elegant (as some greens and blues tend to be a bit overwhelming). I had no doubt that this would look great once applied. It definitely is my new favorite nail polish! I haven't tried stamping with it yet, but once I do I'll label whether it's good or not on the "My Collection" page of this blog. There's only one thing that I didn't like about this polish - the handle. It was a pain in the a**! If I wanted to paint with the flat part of the brush I had to turn the handle to the most uncomfortable side it has! I just hope that the other polishes I bought don't have the same problem.
Oh, and the bubbles that are somewhat visible on the photo are a result of my base coat rather than the polish itself.
H&M Moody Model - 2 coats (click for larger)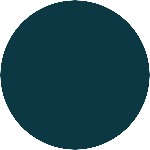 Thanks for reading :)