Good morning! :)
I don't usually write posts on Mondays, but yesterday was a national holiday, so today (almost) everyone gets to stay at home :)
Maybelline Mini Colorama Honey Crystals is a topper that has got golden flecks and round silver glitter. It can actually be worn by itself, but it's very sheer and your nails may look kind of yellow-ish. The name - Honey Crystals is perfect for this nail polish, mostly because of the silver glitter polish. I actually love the gold-silver combo which in many cases can be a bit overwhelming, but not this time.
Maybelline Honey Crystals - 2 coats (click for larger)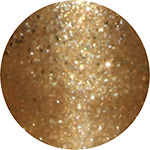 I'll probably write another post this evening, because this one was super short.
Thanks for reading :)