Hey guys!
I wanted to start the 31 day challenge for some time now. I don' really have the free time to make posts every day, therefore I don't know if I'm going to make it a 31 day challenge, but I'll make sure it's a 31 manicure challenge according to the list, which looks like this:
(click for larger)
I'll put a sidebar with links to all the manicures.
Day 1 is RED nails. I chose Avon Red Wine, which is from the Speeddry+ line. It's a deep red jelly, but unlike most jellies it's opaque in 1-2 coats. I'm not a big fan of red nail polishes because usually they're very unflattering to my skin. Because of this, the ones I own have been chosen very carefully.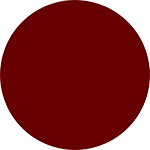 I've worn this nail polish by itself so many times. That's why this time I made a half-moon manicure (well actually, they're triangle shaped) using some loose red hex glitter. Here's how that turned out.

Next up is ORANGE nails.
Thanks for reading :)