Hello! It's day 3 already and today we have YELLOW nails. Today I'm going to show you another franken I made, because it's the only yellow I own right now :)
I decided to call it Jasmine because it reminded me of the color of the jasmine. It's a light yellow cr‬è‪me, opaque in 2 coats. I wanted to get a really soft, pastel yellow, but I didn't have more space in the bottle for white nail polish and got a darker shade instead.
Jasmine - 2 coats (click for larger)
My feelings towards yellow nail polishes are neutral. I don't love them, but I don't hate them either.
And here's what the nail polish looked like before I added white to it.
Orkide Olivia 90 - 2 coats (click for larger)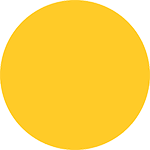 Thanks for reading :)
p.s. This is my 50th post! Yay!