I can't believe I actually made it! I mean, writing a post for today's challenge, which is ORANGE nails. I chose a polish from a local brand called Orkide Olivia, but unfortunately I don't have its number :(
This nail polish is a tomato orange cr‬è‪me (according to Wikipedia colors). It's fully opaque in 2 coats. It looks really different in the bottle, almost neon, but on the nails is a very soft and flattery shade. I love orange and it used to be my favorite color, but finding a nice orange nail polish is hard.
Orkide Olivia - 2 coats (click for larger)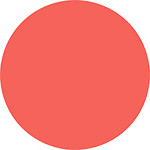 Well I don't have a special manicure for this post. This color looks gorgeous on its own anyways. Oh and by the way, my current nail length is my record so far. I can't believe I've kept my nails growing for almost two months!
That's it for today's post. Next up (hopefully tomorrow) is YELLOW nails.
Thanks for reading :)