Another day, another green... Obviously I'm in the mood for greens these days. So as you can notice I changed the header with a new autumn-like. I've got only one hard test for this week and after that I'll enjoy the rest of my week writing new blog posts, drinking tea etc.
Today I'm going to show you a beautiful 'almost black' green. Actually it's quite black under most lightning situations, but I tried to capture just a bit of the green on my photo. It's opaque in one coat, but I used two because this polish was half empty, so I couldn't get enough polish on the brush. Is it just me, or are there a lot of polishes named Green With Envy?
Avon Green With Envy - 2 coats (click for larger)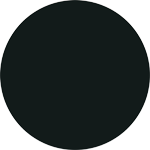 Oh, and guess what? I actually did a non-stamping manicure :) I made a triangle shape using duct tape and added a coat of H&M Hunt Me Down.
(click for larger)
That's it for today. Thanks for reading & have a good day/night.