Hello everyone :)
Today I'm going to show you two beautiful red nail polishes that I own. Not a long time ago, I wrote that I'm not a big fan of reds and that I own only a few (in comparison with other colors), because they make my skin look weird. That's why I have to choose my red polishes very carefully.
One of the colors is
H&M Midnight Passion
. I bought this polish when I visited Prague, along with
a couple of other polishes
. It's a dark red cr‬è‪me, opaque in 2 coats. This polish is gorgeous, but the brush handle is very weird and you need to hold it in the most uncomfortable position possible in order to get the brush flat. I had to re-swatch it three times because I smudged my cuticles every time I tried to paint my nails.
H&M Midnight Passion - 2 coats
The second nail polish for today is Flormar Supershine Miracle Colors U14 (long name). Miracle Colors is one of the most recent lines from Flormar and it has beautiful colors. I was searching for a Christmas-y, shiny and very sparkly red and this is what I chose in the end. It's full with red and silver shimmer. A little advice: if you want shiny and sparkly colors, you should just buy anything from the Supershine line, they are absolutely gorgeous.
Flormar Supershine Miracle Colors U14 - 2 coats (flash)
Flormar Supershine Miracle Colors U14 - 2 coats (daylight)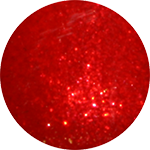 Thanks for reading :)