I know that I didn't write a short "see you soon" post, but what matters is that I'm finally back and ready to blog again. I was on a short trip to one of the most beautiful places in Macedonia called Mavrovo. Skopje didn't get much snow this year and I felt like I needed to chill out from the heavily polluted city for a while. My winter vacation ends tomorrow, so I start school on Monday. But I think that procrastinating will make me write even more posts :) What I have for you today is a really cute manicure. I think that I haven't done cute in a while :) But, first let me show you the base color I used.
It's called Rapsodi 313, a fairly new brand for me, though I've seen a couple of photos on some blogs. It's a very soft rose pink, not too bright and not too dark. Looks more purple in the bottle. This is 2 coats.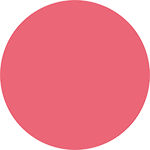 I didn't expect this color to turn out so cute and initially I wanted to stamp something on top of it. In the end, I decided to add a cute bow sticker.