Hello everyone!
Today I'm going to show you two lovely polishes from Essence. I just noticed how cute their names sound together, while I was writing the title of this post. So, lay back & enjoy the beauty.
Since I used it as a base for this manicure, Essence True Love is up first. It's from the Vampire's Love limited edition which became available in Macedonia recently. I wanted to buy at least one polish from this collection and wasn't really looking for anything in particular. The others failed to impress me, but this beautiful plum shimmer didn't.
Funny thing is, I've got a really similar polish to this one, but when I saw it in the shop it didn't look like anything I had. I find that it's similar to
Flormar Supershine 14
, but the Flormar one is a shade darker and has flecks instead of shimmer.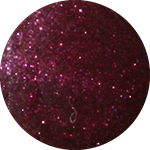 Just like Essence
Make It Golden
and
Blue Addicted
, this is one of the most beautiful glitters Essence has ever made.
Essence Time For Romance
is mostly consisted of pink and purple glitters in all shapes and sizes, but some of the glitter seems to be holographic as it flashes in different colors.
I must admit that I wasn't very impressed when I was buying the other two and I actually bought it much later, but now that I have it on my nails I just can't stop looking at them (plus I got tons of compliments about them).
And a close-up :)
Thanks for reading & have a nice weekend!