Hello everyone!
Today I'm going to show you one of the two new Essence duos that I bought.
Before I begin, a short introduction to the Colour3 polishes. They are consisted of 2 polishes, a base color and a topper. You can wear each polish by itself, or you can combine them both. You get 2 x 4ml of polish (that means a total of 8ml) for around 3 euros, which is kind of pricey if you ask me, but the ones that I got were totally worth it.
So, today's polish is Essence Colour3 Midnight Date.
First up is Midnight Date. It's a very shimmery dark blue. It has a very subtle, barely noticeable duochrome effect. I'm going to be honest with you. This is not the most unique polish ever, but I kind of like it. Here's how it looks.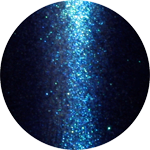 Even though Midnight Date is probably a deja vu when it comes to polishes, the other part of the duo - City That Never Sleeps is here to fill in the void. It's consisted of green and blue flakies in a purple jelly base. I layered it over black, as I thought that it wouldn't be opaque by itself. I'm going to add a photo of itself later on. Here's how it looks.
They are both really sparkly, so I thought that it would be simply too much if I layered them, but the result was amazing.
That was a long post :) The second duo is coming up soon!