Good morning, my lovely readers!
I think that the title says it all :) These five glitters were just laying around for more than a year (at least some of them) and I finally decided to give them some love. So, each glitter is pictured on a different nail and you'll see a short description and a close-up of them. Enjoy!
First of all, the random base colors I chose for this post. The polishes are listed thumb to pinky.
L-R: Catherine Arley 917, Jasmine, Gabrini Elegant 352, Gabrini Elegant Mirror Colors M05, Essence Movie Star
Here are all of them pictured at once, scroll down for more :)
L-R: Hello Kitty by H&M Glitter Silver, Golden Rose Paris Nail Lacquer 70, Sandcastles, Gabrini Elegant 378, Classics 60
Hello Kitty by H&M Glitter Silver is a small round silver glitter polish. I've had this for over a year and it's been just sitting there for no reason. It covers really good. The picture below is only one coat.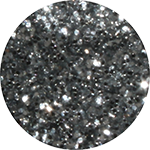 Golden Rose Paris Nail Lacquer 70 is consisted of somewhat holographic string glitter and small square iridescent glitter particles that look like they are orange when applied on top of a darker color.
The third polish for today is Sandcastles. I kinda hate this polish, but I made it and I have a hard time throwing away polishes that I've mixed. It has a bunch of random colored square and circle glitter, blue hexagonal glitter and golden specks.
Gabrini Elegant 378 looks pretty ugly in the bottle, but shows its true beauty on the nails. It's consisted of square glitter which comes in three different colors - green, blue and orange.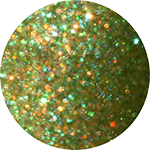 And the last polish for today is Classics 60. It's consisted of orange specks in an orange base with some square silver glitter.
Thanks for reading :)