Hello everyone!
A couple of weeks ago I showed you
Essence Colour3 Midnight Date
one of the Essence Colour3 duos I got. It was about time I showed you the second duo called
Essence Colour3 Ticket To The Show
. As you may or may not know, the bottles have two small polishes (4ml each), but they're called Colour3 because you can layer one polish over the other and create a third look as well.
First up, of course, is Ticket To The Show. The minute I saw this polish I knew I had to have the duo in my hands. And so it was :) It's consisted of a jelly-like black base full of rainbow colored shimmer. The shimmer is so smooth, it's almost unnoticeable at first sight, but you can easily see it on daylight. I think that Essence did a good job when they made this polish, because they balanced the black and shimmer really good.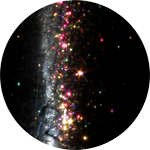 Next is the second part of the duo called
Front Row or Backstage?
. It's consisted of a greyish brown jelly base full of golden shimmer. Unlike it's "brother", this polish isn't subtle at all. It's very, very sparkly. This part of the duo failed to impress me, just like one par of
Essence Colour3 Midnight Date
did.
And of course, the fun part of these polishes - the layering. I layered Front Row or Backstage? over Ticket To The Show and got a surprisingly lovely combination. Here's how that turned out :)
That's it for today! Thanks for reading & I'll see you soon.