Hey guys!
I finally managed to find some time do to write a couple of blog posts. I've got a bunch of swatches coming up for you. I know that they aren't the best part about blogging, but I've already done the swatches so I might as well write about the polishes. I'll be sure to make up with even more design-related posts.
Today I'm going to show you Golden Rose Matte Velvet 105. Golden Rose introduced their matte line only a few months ago and now they've expanded it by adding a couple of other shades which have an additional name - velvet. These are mostly some shimmery shades, which makes them more suede rather than mattes.
Golden Rose Matte Velvet 105 is a beautiful shimmery blue suede. Opaque in 1-2 coats, depending on the thickness. I expected this polish to be more of a green shade, but the result was a really nice surprise. I guess that the downside of these polishes is the packaging. The glass is kind of mattified which totally changes the color, you simply can't see the true color unless you open the bottle.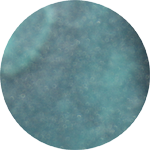 Below you can see photos of the polish with a glossy top coat. It looks even prettier with top coat. It gives it more dimension, I think.
One last photo, taken with flash, to show you the beauty of this polish :)

Thanks for reading & see you again soon!