Hello! How are you doing today? :)
Today I'm going to show you a nail polish from Essence's Show Your Feet line that I got with a discounted price, as they are going to be discontinued.
Before I begin, a bit of info considering this particular line. Show Your Feet, as you may guess, is toe nail polish line, but this doesn't mean that you can't use the same polish on your fingernails :) The polishes from this line are kind of thicker, which supposedly makes them opaque in one coat, and they're also antibacterial.
Essence (Show Your Feet) Flamingo Rose is a lovely pink polish with white and gold shimmer. The shimmer is quite subtle, yet it is visible on direct light. Unfortunately, I was unable to capture it with my camera. Even though the label says the polish is opaque in only one coat, I found it difficult to cover my entire nail. I used two coats, which is perfectly fine by me. The formula is a bit chalky, but it shows no streak lines. Also, it dries pretty fast.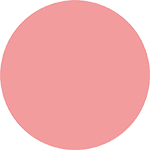 Thanks for reading!