Hey guys!
How are you all doing today?
Today I'm going to show you two nail polishes that I bought recently. They are one of those "I seriously need to buy some nail polishes right now" buys that usually turn out to be bad, but these are actually pretty good. See for yourselves :)
Classics Charming 84 is a warm-toned purple with tons of golden shimmer. It has a jelly-like consistency, making it quite sheer, but 2 coats will do fine. The shimmer is very subtle, yet noticeable.
The second polish for today is Miss Selene 174. It's a lovely glitter topper consisted of hexagonal golden, orange and iridescent particles. The application is okay, but the glitter may be a bit 'stubborn' and get stuck on the brush :)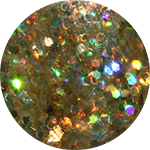 Thanks for reading & have a nice day!