Do you know that feeling when you really want a bunch of nail polishes, but you can only afford one or two?
That happened a while ago when I purchased the two duos from Essence -
Ticket To The Show
and
Midnight Date
. I kept reassuring myself that I didn't need another one of them, as they are quite expensive for the amount of polish you get, but I just couldn't get this beauty out of my head.
Not so long after, I bought it as well.
The first part of the duo is Boys Are Back In Town. It's a very dusty, muted shade of lavender. Its opaqueness is great. I needed only one coat to achieve the look on the photos below. I love this polish and I can see myself wearing it when the colder days come by.
The second part a.k.a. the part that's meant to be layered is called It's Just A Little Crush. It's a shimmery topper, consisted of very smooth and fine multichromatic shimmer. One coat for the swatch, over Boys Are Back In Town.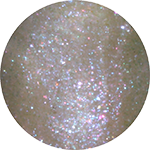 Thanks for reading and have a nice day!