Hello everyone!
I'm already halfway through the challenge and today's theme is DELICATE.
I've been waiting for this theme for a long time, because I knew exactly what I wanted to do (and for some reason I didn't want to do it before this day came). Also, I got a swatch for you today! I have a bunch of swatches coming up, but I only want to post one post per day, so you'll see them after the challenge :)
I know, I know, it's barely visible, but I was going for really delicate :)
I painted my nails with Rimmel London Alaska (swatches below) and then I stamped the paisley design from the plate BM-315 using Flormar 112. The paisley design is one of my favorites from the new Bundle Monster set. It's incredibly detailed, I can't even explain how good it looks.
Rimmel London Alaska is a milky nude polish with a jelly finish. I painted 2 thick coats for the swatches and it turned out pretty opaque, though there is a visible nail line. But, polishes such as Alaska aren't made to be opaque, so I didn't bother painting tons of coats just to get it right. One coat is perfect for the classic french manicures, if you work in a place where there are strict rules about nails or maybe if you just want to leave the crazy colors aside for a while :) I'm going to try a jelly sandwich using this baby after the challenge.
I don't know why the color drop turned out that way, but it's not color accurate at all!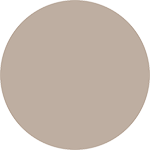 Thanks for reading & see you tomorrow!