Hey guys!
Today is a very special day for me :)
It's my 19th birthday & it's also October Polish Days!
The theme is "Sentimental Polish" which can be interpreted in many ways.
I chose to do a jelly sandwich using Kleancolor Afternoon Picnic. I simply fell in love with this polish the moment I saw it (and of course I had to buy it later on). It had to "travel" over 25 000km to get to me and now that I have it I just want to wear it everyday :)
Well, not everyday, but since it's my birthday I'm totally allowed to wear as much bling on my nails as I want to :) I used Rimmel Alaska as a base and on top of Afternoon Picnic in order to make it a sandwich.
Due to the grey-ish base of Afternoon Picnic, Alaska's warm tone changed to a colder one, but it's cute either way.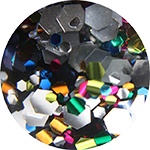 Thanks for reading!