Hey everyone!
Today I'm going to show you a polish that I absolutely fell in love with since the moment I saw it and comes from Golden Rose's new collection called Jolly Jewels (more about the collection after the swatch).
Golden Rose Jolly Jewels 109 is a glittery mix consisted of pink and white round glitter suspended in a sheer baby pink base. What I love about it is that it's opaque in 2 coats and looks very much like the "indie" polishes that many of us love, but can't really afford.
It has a rougher texture once it's dried, so I do recommend adding a coat or two of high shine top coat.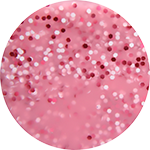 Here's the rest of the available colors.
This is by far my favorite collection by Golden Rose. Stay tuned for more swatches of this collection :)
Thanks for reading!