Hey everyone!
Sorry I've been absent for the past week, but I had to study for my finals. I'm so happy the holidays are starting here because I needed some rest from school.
Anyway, today I'll show you yet another one of the Jolly Jewels collection.
Jolly Jewels 117 is a glittery mix of larger and smaller golden hexagons submerged in a black base. Unlike the previous ones I showed you, the base isn't too sheer, so it might cover the golden glitter. That's why I recommend using it over a black base, rather than layering it by itself.
This one, by far, is the chunkiest of them all and very gritty. I used 2 coats of my thickest top coat and the results were still uneven. Besides that, it really is a gorgeous polish, perfect for New Year's Eve :)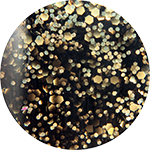 Coming soon: four more swatches of the Jolly Jewels collection!
Thanks for reading :)