Hey everyone!
Today I'm going to show you a pretty awesome nail polish from Born Pretty Store. You know that it's one of my favorite online stores for nail art supplies. They made their own nail polishes and they had a giveaway and I was one of the lucky people that got to choose one nail polish :)
Born Pretty Holo 12 is a holographic nail polish with a teal base. Since it's a darker color, two coats are enough to get full coverage. I've never had a nail polish with such a strong holographic effect. I'm absolutely in love with this nail polish.
The following two photos were taken under a light bulb, so the effect can't be really seen that much.
However, once I took a photo using flash, everything looked even better! Party on my nails!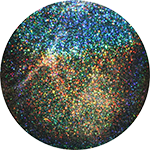 The effect is the strongest under natural light, but unfortunately I couldn't take a photo since I only swatch at night when I can ventilate my room.
Overall, the polish is really nice and by reading reviews about the other shades, the whole collection is an absolute hit. However, these bottles hold only 6ml of nail polish. The price is $5.59 and considering the size, I'll have to say that they are a bit pricey.
Thanks for reading :)