Hey everyone!
Today I'm going to show you the second polish from the Floral Grunge collection that I bought a couple of days ago. To be honest, the other polishes were much more appealing to me, but I bought this one because it had a small label on the cap saying "The Rough" which probably meant that Essence tried to make a textured polish and I was really eager to try it.
Black To The Roots is more of a dark grey rather than a black polish with silver glitter and a semi-matte finish. Opaque in one to two coats, depending on the thickness, but I'd recommend two just to smooth everything out. I thought that this was going to be a textured polish, but actually it's not. After it dries, some of the glitter can be felt on the surface giving it that "rough" feeling. Maybe if they used chunkier glitter, it'd show more.
Just like with
Grunge Me Tender
, I also used top coat and I liked more than the original. Here's how that looks.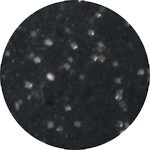 Overall, it's not the most unique polish ever, but if you're looking for a "textured" polish that doesn't really have that much texture going on, this is the nail polish for you.
Thanks for reading!