Hey everyone!
I'm finally back from yet another hiatus. This time the reason was my nails breaking and they looked disgusting. They still are really short, but not that much. If some of you miss my nail art, I'd like to say that I post plenty of photos on my Instagram. I'm actually doing a July Nail Art Challenge, so you can check it out
@northernxlights
. I'll post a recap here with all of the photos once I'm done :)
Now onto something post related. I've written before about how the importers of Essence here don't give two sh**s about the latest collections, so the Twilight collection (which was released in October 2012) was still available up until a few days ago. It breaks my heart when I miss out on so many great collections, but it is what it is. Thankfully, the Floral Grunge collection was brought in the stores and I grabbed two of the five polishes. Today, I'll show you one of them.
Grunge Me Tender! is a shimmery mint green polish with a suede finish. Since most matte and suede polishes are pretty opaque, I expected this one to do as good, but I was proven wrong. It needs at least two coats, mostly because the formula is a bit chalky and creates pretty ugly looking streaks. The brush isn't what I had expected. It's wide, but short. I'm curious to see how it picks up polish after the bottle is half empty. In the bottle, you can see tons and tons of fine white micro shimmer, but sadly this doesn't show on the nail too much. At least, not without top coat. Here's what I mean.
The next photo is with a shiny top coat. Much better, right?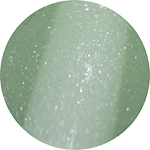 Overall, I believe this is the first time a polish by Essence has disappointed me (at least this much). I like the fact that the once you put a layer of top coat, the nail polish looks so much better, but I wish I'd checked out some reviews about the collection before buying this polish.
Thanks for reading :)