Hey everyone!
Today I'm going to show you the last of the textured polishes that I got. I hope that these posts weren't boring, but I really wanted to show them one by one. Little did I know, Golden Rose extended the collection by a couple of other polishes, which aren't in the stores here, but I'll see if I'm going to buy some of them later.
Golden Rose Holiday 66 is a peach-y pink textured polish, with absolutely no additions to it. It's just a plain color, that looks pretty amazing. The photos don't do it justice at all. It's more pink in reality, just look at the color drop and it'll be clearer. It's opaque in 1-2 coats. It has a chalky appearance, but it's not too bad. Just like the previous ones, it's textured and what I love about it is that it's pretty rough on it's own considering the fact that it hasn't got any glitter in it.
I must admit that I didn't let it dry all the way, that's why you can see a smooth patch on the middle finger. Otherwise, I'm pretty much in love with the polish (not as much as with the other ones, though).
I added a layer of top coat on top and the results were... Let's just say - yuck!
First glance - it's not that bad, but if you take a better look, you can see all of the textured particles showing under the top coat and making it look all weird.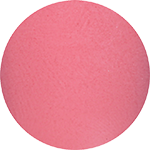 Thanks for reading!