Hey everyone!
Back in 2013 I got some lovely water decals from KKCenterHK which I showed you
here
. I decided to use them again to create this lovely mirrored mani.
The photo is a bit blurry because the camera gets pretty weird around brighter colors and can't really focus too good. I cut the triangle shape from the decal sheet and applied it over my completely dried base color. Since the nails are curved you'll probably have to cut tiny pieces of the base of the triangle to make it fit perfectly.
I used
OPI Suzi's Hungary Again
from the Euro Centrale collection. I haven't bought a nice pink in a while and this was a great addition to my collection of polishes. It applies like a dream and dries really shiny. It's a medium pink shade and at first I thought it was a creme, but under very bright light it has really subtle shimmer that's pretty much invisible on the nail. It's opaque in 2 coats and like I already mentioned the application wasn't hard at all.
I don't wear pink polish a lot even though I have more than enough pinks in my collection, but I can see myself wearing this more than once :)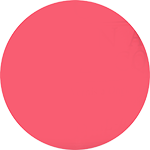 You can get these water decals
here
for $5.75. And don't forget to use my coupon code "iloveprettycolours" (without quotation marks) to get 10% off your order.