Hey everyone!
Today I'm going to show you six glitters that I got for my birthday (which was 4 months ago, but that doesn't really matter).
Miss Selene 162 is a silver round glitter polish. What I love about it is that the glitters are really tiny and you don't need to tap the brush on the nail to get them out, they just spread out really nicely. Layered over OPI Suzi's Hungary Again.
Miss Selene 166 is a very beautiful dark red round glitter polish. The particles are so small that they are almost blending with the base color, as you can see on the photo. Layered over H&M Midnight Passion.
Miss Selene 168 is a mix of tiny blue round glitter, little blue rectangles and a bit of silver holo glitter here and there. Layered over H&M Moody Model.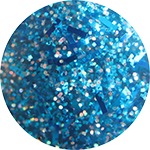 Miss Selene 170 is a round emerald green glitter polish. Just like the others, the application is really nice and spreads out evenly. Layered over China Glaze For Audrey.
Miss Selene 171 is a square gold glitter polish with a bit of golden holo specks. I'm absolutely in love with this polish and I'll be using it for some glitter gradients in the future. Layered over Avon Smoky Plumes.
Miss Selene 173 is a royal purple glitter polish with some silver holo polish. Layered over OPI You're Such A Budapest.
Thanks for reading!