Hey everyone!
If you're like me and you love wearing dark nail polish during fall and winter, you're going to love these two polishes that I'm going to show you today.
Catrice Vino Tinto is the first nail polish that I got from Catrice and let me tell you it was hard to choose. I picked it up because it looked like such a great color to wear during the cold days and I was not wrong. It's sort of a brownish plum creme. It turned out more on the purple side on the swatch, but it's just one of those nail polishes that don't cooperate :) Two coats for the swatch, but you can get away with only one if you apply it carefully.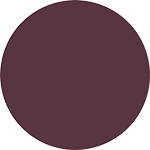 The next polish I'm going to talk about is Seventeen Supreme 50, a lovely deep burgundy creme. When applied it might even look almost black on the nails, which makes it particularly interesting for me. The only thing that I mind is that it stains everything and anything in its way. Base coat doesn't help at all. 2 coats for the swatch.

Do you like wearing dark polishes during fall? Or maybe you don't like to coordinate your nails to the season?

Thanks for reading!