Hey everyone!
Day 2 of swatch spamming and today I'm going to show you some of the Essence nail polishes that I got.
Essence Keep Calm And Go To The Beach is one of the textured polishes from the Beach Cruisers TE. It's a bright teal polish with golden shimmer. Very mermaid-like :) I love it in the bottle, but on the nails it's not particularly good. First of all, the brush is way too stiff and drags the already applied polish. Second, the golden shimmer is barely visible on the nails. And lastly, I just don't like how Essence makes textured polishes. It's way better than their first ones, but it still isn't the best finish overall. 2 coats for the swatch.
Essence Black Dress and White Tie
is a glitter topper that has white and black matte hexagons small sized hexagons, even smaller white hexies and tiny silver glitter suspended in a clear base. Reminds me of
Golden Rose Jolly Jewels 123
, but they're definitely not the same. 1 coat over Golden Rose Matte Satin 02.
Essence Yummy Yummy is a frosty grey-ish nude polish from the Cookies & Cream TE. Every polish from this collection came with a sheet of cute cookie stickers, but I didn't use them with this polish. It reminds me of the 90s a lot. I don't really see myself wearing it, though. Needs 2 coats for full opacity and typically for frosty polishes, it does streak a lot.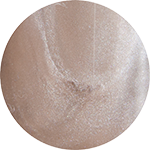 Thanks for reading!