Hey everyone!
I'm continuing with the old swatches showcase.
Today I'm going to show you Rimmel London Aurora. First of all, I adore the name and that's why I bought this lovely textured polish that turned out to be one of my all time favorites. I was gonna say that it's a rose gold, but it's more on the cool side, so I will settle for a silvery rose polish. Besides your usual texture grains, it has hexagonal glitter in the same shade. Two coats for the photo.

Once you apply top coat, you get equally awesome looking polish, but I must say that I prefer it textured.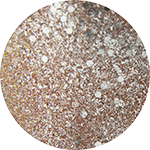 Thanks for reading!