Hello everyone!
I have a couple of posts that are long overdue, but better late than never, right?
Today I'll show you a few random swatches that didn't really make it on their own. I try not to post a single swatch since the polish has to impress me quite a lot in order to do that. Anyway, I'll stop with the rambling and move on to the swatches.
Gosh Oh La La! is a bright orange cr‬è‪me polish. It's very shiny on its own and it has a bit of that jelly feel to it, but not too much. Full opacity in 2 coats, which makes it pretty standard when it comes to polishes. I absolutely love the color and I don't know why I didn't post it earlier.

H&M Starstruck is a glittery mix consisted of red, green, blue and silver specks of glitter suspended in a clear base. I haven't been wearing too much glitters lately, but it was a nice addition to the ever growing collection. Pictured below 2 coats, but you'll get away with only one.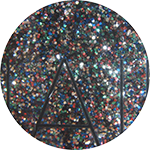 Avon Midnight Green is a shimmery forest green polish. If you've been following me for a while, you'll know about my struggle to find the perfect dark green polish. This one just didn't impress me too much. Don't get me wrong - it's gorgeous, just not quite what I was looking for. 2 coats for the photo.



Flormar Matte M01 is a plain matte white polish. Quite surprising, it needed 2 coats to become fully opaque, as 1 coat can look a bit streaky. It's great as a base for manicures and such, but still not my favorite white ever.



Thanks for reading!